On the ground that day was a young girl named Leni Eilers. Her mother and brother sought shelter in an earthen bunker when the air raid warning sounded. Leni was at school. It was her home which burned. Her cat, frightened and confused by the fire, returned to the burning building and died there. Later on, nine coffins stood in the farmyard, one for each of the Americans who died that day.


Leni Eilers found a small, wooden doll in the wreckage of Capt. Adams' plane. (The same doll that Heinz Knoke refers to in his account.) It remained in her possession long enough for her own daughter to play with it many years later. Over time she lost track of it. When I visited her home near the crash site in May of 1996, she could no longer find it. I would very much liked to have seen it. For me it would have provided a tangible connection between the historical event which I have been researching and the men who were on the plane.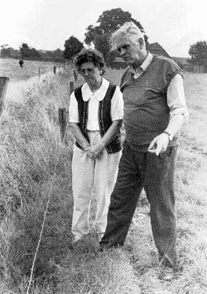 Leni Eilers (now Leni Behrens) is shown here with her husband, Gerd, at the crash site.